Photos of Simulator built by
First Baptist Church - Springdale, AR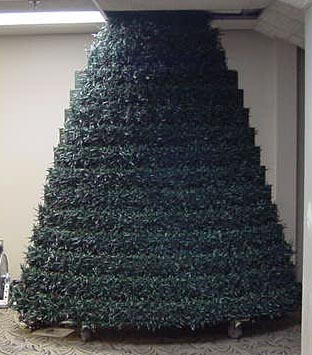 Simulator for 15x9x6 matrix (810 channels)
using miniature strings of 20 lights
Side View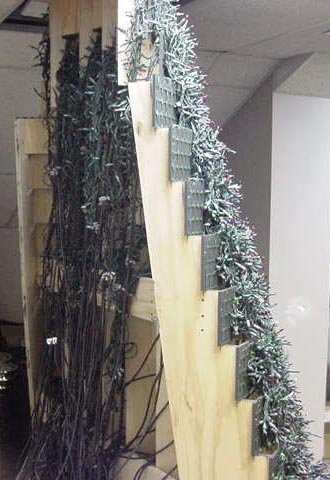 Strings were wired in using MidiLite pigtails (12 ft. cables with a male MidiLite connector on one end and bare wires on the other).
The model is just over 8 ft. tall and is 35" deep.
The tree rows were curved using bendable plywood and green plastic fencing was used to attach the strands of lights
Strings of 20 lights were purchased from Hobby Lobby. They are available in "Clear" and "Multi", so bulbs had to be swapped around. The "purple" is more of a "pink" but other than that, it worked pretty well.
Other churches that have built simulators:
Bethesda Baptist Church - Brownsburg, Indiana
Mid-way Baptist Church - Raleigh, North Carolina
Hyland Heights Baptist Church - Lynchburg, Virginia
Greystone Baptist Church - Durham, North Carolina
Thomas Road Baptist Church - Lynchburg, Virginia
plus several new ones in Fall 2000 & Fall 2001
Return to the MidiLite Main Page