NetLink & MidiLite Studio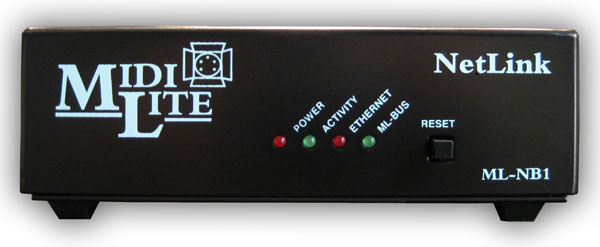 NetLink
Network processor for the MidiLite II Dimmer System. Use with the new MidiLite Studio software for high-speed network connectivity. Use MLdesign and Digital Performer without the need for a MIDI interface! The MidiLite Studio software provides virtual interface, device and patchlist information to Digital Performer.

• 32 bit Microprocessor
• 10/100 MB/s Ethernet
• Connects to ML-Bus on MidiLite II Dimmer Racks
• Use standard ethernet cable and switches for connection between control area and the MidiLite racks
• Easily integrate with a WiFi network
• High speed communication, opens the door for new capabilities and features in the MidiLite II
• Remote reset of MidiLite II racks via MidiLite Studio software
• Automatic network configuration
• Comes bundled with MidiLite Studio software (see below)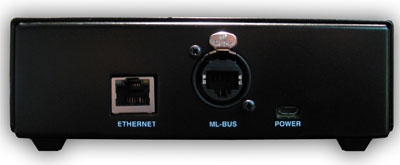 NetLink Rear View - Ethernet, ML-Bus and Power connections

The NetLink is available now! Order from our Online Store. $995.00



MidiLite Studio Software (Mac)
MidiLite Studio software is bundled with the NetLink and provides support for the new capabilities.

• NetLink connectivity and support for new features
• Combines MLsim, Setup, MIDI Bridge & Mobi Bridge + several new features
• New Router capability
• Enhanced Color Selector
• New Control Panel configurations
• No reconfiguring needed when switching from MLsim to the MidiLite Racks
• No need for a MIDI Interface for controlling the MidiLite!
• Simultaneous output on MLsim and actual MidiLite Racks
• Opening MLdesign project can automatically reconfigure MLsim configuration and matrix size

MidiLite Studio is now available. MidiLite Studio is provided free with the NetLink. MLsim and MLdesign are integrated but activated via separate licenses. Anyone who purchased or upgraded MLsim and MLdesign in 2011 receive this update at no charge. Upgrades from previous versions of MLsim/MLdesign is $199.95.